Putting it Together
on
August 18, 2018
at
12:01 am
Finally! After all these years (years!) the Cereal of Legend is complete! How do you think it will taste?
—
Speaking of cereal, there's a new brand name in town and it's … Funko? Yup, they're making cereals based on their licensed properties now (i.e., everything) and I was able to get a box of their new Mega Man cereal!
It's very cool to see a long-time favorite video game character finally get a cereal (Much like Mario did, earlier this year). This is admittedly an odd take on it however, considering that this is distinctly -Funko- Mega Man. The box features visuals that shy away from standard Mega Man branding, take the logo for example, and present this strictly in the Funko style. I don't really mind it necessarily, but the Funko Pop look/branding can certainly come across as lifeless, even annoying for some.

As with any good cereal, this box comes with a prize inside! This is a miniature version of the Mega Man Funko Pop figure, and I do think it makes for a good breakfast prize. Funko Pops generally don't hold my interest, but in this smaller, pocket size they have a lot more appeal somehow. This figure has trouble standing up on it's own, which is tragically ironic considering Mega Man's substantial feet.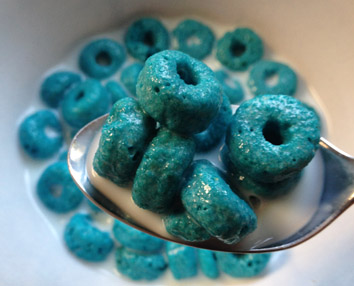 The cereal itself isn't bad, looking like Froot Loops but with the taste of Trix, and far crunchier than either. It's interesting, but not really the main sell for this product. That may be why this cereal isn't sold in the cereal isle, but rather at specialty shops like Gamestop or Hot Topic. It's kind of surreal seeing a box of Cuphead cereal being sold on a shelf next to the latest Xbox One releases. At $8-9 per box, it's not exactly an affordable way to find actual breakfast food, but if you're a fan of cereal or Mega Man merch, the box and prize are a fun collectable.
—
Just a heads up, but after next week's comic I plan to take a longer hiatus than usual. I normally take a break in September, but I'm going to take more time away this year to work on some other projects, rest up a bit, and prepare the next chapter. I'll have more details next week, but in the meantime, thanks for being a reader!